SHOWING OUR RESPECT TO THE HAND MADE COMMUNITY
Here is a quick look at our friends over at LEEF & CO and their "Rare Summer" Collection. Amazing hand made leather goods, right out of Southern California.
MADE IN AMERICA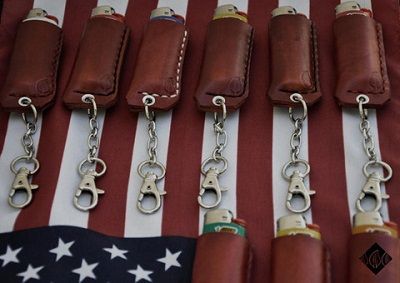 Leef and Co. was created in April of 2012, in Southern California. Designer and founder, Jordan Moser, was inspired to start creating handmade leather goods one night hanging with friends in his Orange County home. Fashion, Art, and Natural Herbs playing a large role in their lives, he went out to create something that would make the lives of smokers easier. At the same time, creating an accessory that would add a small bit of class and swag to your everyday outfit. This is how the Leef and Co. completely handmade lighter case was born. As he never intended to make a business of it, but just to have for friends and family, people all over began to take an interest in the goods. A year later, Leef and Co. has come to make various innovative street wear products and will continue to serve it's customers by bringing the best goods to the table.
" We've been working hard to bring you a bunch of new products and one of the best lines we've ever done. The long wait is over though, and "Rare Summer" has arrived. Our collection for the summer was inspired by the cool, relaxed vibes, that people experience when Summer time arrives, and a care free attitude that you'll need to make your Summer the best one yet. We tried to bring you goods that will make all that possible. A rolling tray to snag and take down to the beach and roll up, or roll up before and slip your, "Meds" into a built in tube in our Stash Pouch. Stay shaded anywhere with our new fully embroidered Bucket Hats, and accompany all your dope fits with our Lighter Cases. For us here at Leef and Co., Summer is our favorite time of year, so we have given this collection everything we'd like to have in our bag. That bag being the one you pack up for a beautiful day at the beach, wherever your beach may be! Hope you all enjoy, "Rare Summer". "
Author: Mason Tayler
Leave a comment